New Home Equity Acceleration Plan Smart Phone App
New Home Equity Acceleration Plan
Smart Phone App.
 

             

Would you like to pay off your mortgage 5, 10, 15+ years early with a plan that does NOT require you to change your lifestyle and has no downside risk.

That plan actually exits and it's called the Home Equity Acceleration Plan (HEAP). it's been around for some time and I've written a book explaining HEAP as well as created a software program to help implement the program. If you would like a copy of my HEAP book, email me at roccy@heaplan.com.

Until now my HEAP software has been a desktop program. Just recently I turned the software into a mobile app. that you can get on Iphone, Android, and Microsoft.

Get my mortgage acceleration app for FREE

The app. sells for $9.99, but for those who receive my educational newsletters, I'm allowing you to download the app for FREE.

How do you get the app? Simply click on the following link:

http://heaplan.com/get-your-h-e-a-p-mobile-app-for-free-today/

If you've always dreamed of paying off your home mortgage, now is your chance to get started down that path by downloading my new HEAP App.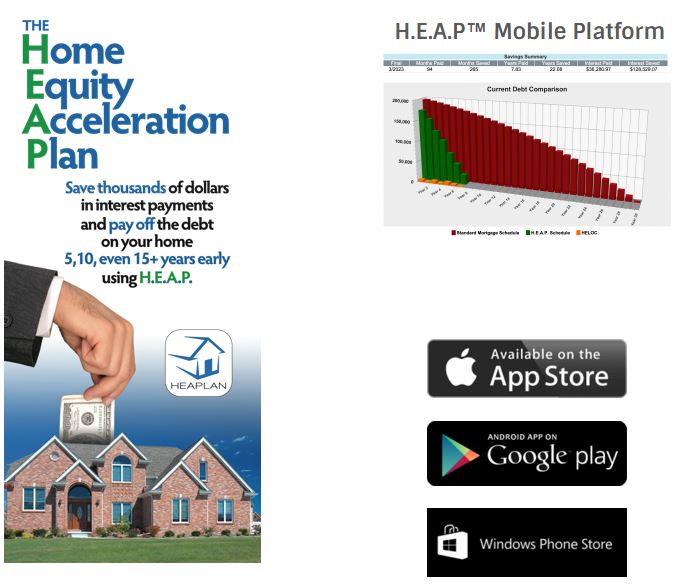 Roccy DeFrancesco, JD
Founder: The Wealth Preservation Institute
www.wealthpreservationinstitute.com 
269-216-9978
Get a copy for FREE of my new book!
If you would like a PDF copy of the book, simply e-mail: roccy@wealthpreservationinstitute.com and I will e-mail you a copy so you'll have something interesting and useful to help you determine if you are using the right wealth building/retirement tools.
✓  Understanding Investment Risk.
✓  Why the "Average Investor" does so poorly.
✓  Determining the "Best" Money Management Platform.
If you would like to comment or have suggestions for us, please feel free to email: info@thewpi.org
144 Grand Blvd.., Benton Harbor, MI 49022
If you are want to learn more about asset protection and concepts to help you reduce you taxes, go to www.wealthpreservationinstitute.com.